Hi. I'm Dr. Tonia Winchester.
I'm a Naturopathic Doctor, BodyTalk practitioner,
acupuncturist, writer and edutainer.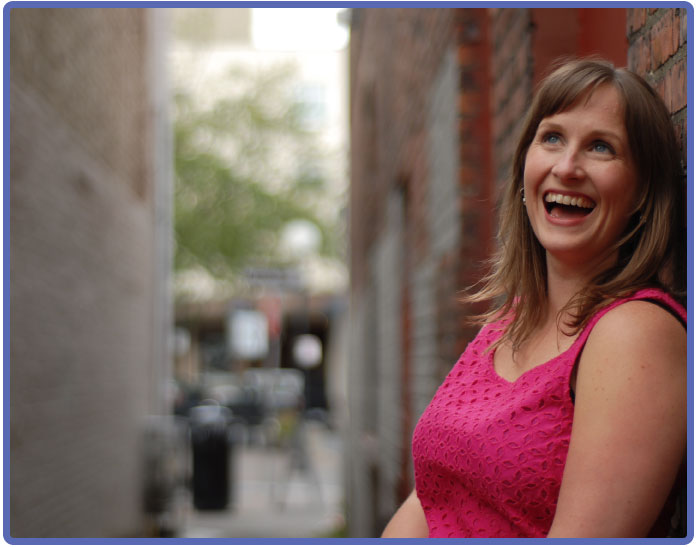 I was a sick baby.
I had pseudo-meningitis, constant ear infections, a rare form of mono, and skin staph infections – one of which put me in quarantine in the hospital on IV antibiotics. The doctors were glad I didn't end up going blind. And so am I.
Oh yeah, and I was covered in eczema.
At age 10, I declared my desire to be a pediatrician. I wanted to help kids get better so they could have tons of fun.
However, through my teenage health challenges I became disenchanted with the conventional medical system. I was shuffled out of doctors' offices with prescriptions meant to fill the empty hole I felt for not being heard.
Nobody could tell me why I was so sick, or offer any good, long-term solutions. And I had an inkling that taking good care of myself would be more effective and actually simpler than I thought.
I decided to change paths.
I was introduced to alternative medicine in grade 12. I immediately knew that complementary health care would allow me to help people in the meaningful way I wanted – finding the deeper reasons for their health problems.
My eczema healed when I started drinking 2 litres of water per day and when I changed universities so I could be dancing more. One act of self-care and one act of self-honesty healed 10 years of skin rashes.
I finally realized:
Our bodies have an amazing capacity to heal.
They are constantly trying to get our attention with our physical and emotional symptoms. But sometimes we just don't know how to listen or what to do with what we hear.
That's where my work comes in. After 5 years of university, and another 4 years at a naturopathic medical college, I'm a Naturopathic Doctor and BodyTalk Practitioner.
Call me your Body Translator.
I can tell you what it all means. My job involves listening to your unique and fascinating story, playing detective, and determining what factors in your life that are causing you to feel unwell, and preventing you from fully healing. Together we stimulate your body's natural healing capacity and remove obstacles to cure.
The benefit? You:
have less pain and suffering
lose weight
experience regular pain free poops.
enjoy more energy
look after yourself first so you can look after the ones you love
love your beautiful, glowing skin
feel calm, safe and at peace
fill your life with joy and purpose
get on with your delightful, thriving life.
Too many words? Watch this intro vid: 
My Super Powers:
I am a safe, non judgmental space. People consistently tell me, "I feel so comfortable around you. I've never told anyone this before."
I have a knack for empowering and inspiring people to discover the underlying causes of even their most mysterious health problems.
I love helping people establish healthy, enduring habits that facilitate continuous, positive changes in their lives.
I am passionate about getting people healthy, happy, and doing what they love. I believe that healthy, happy people doing what they love contribute to a more peaceful world.
I want you to be one of those people.
You may not share the same belief system, but I bet you'd agree that you could be healthier and happier. Otherwise you wouldn't be reading this, right?
Consider me your health ally. You deserve to be your best self, to feel great, and live a delightful life that lights you up. I can help.
Call today to get started. 250-585-0379

Newsletter Sign up
Even though I have a fancy Dr. title you can call me Tonia. (That's Tonia like tonic (aka the Weekly Tonic,) my newsletter. Get on the list for health tips and inspiring articles.)
Click Here to see My Full Professional Bio
When Tonia was 10 years old she decided she no longer wanted to be a marine biologist. What she wanted was to be a pediatrician so she could help kids get healthy and have a ton of fun.
However through her own health challenges as a teen she realized that mainstream medicine didn't have the deeper answers she was looking for.
At age 17 she discovered her calling – alternative medicine. After graduating from Simon Fraser University (where she majored in Kinesiology and minored in contemporary dance) Tonia studied for another 4 years at the Canadian College of Naturopathic Medicine.
Her years as a naturopathic doctor, acupuncturist, and BodyTalk practitioner, led Dr. Tonia Winchester to create "Your Delightful Life," an online program, launching in 2017 to help busy, super-women make time for what is important by teaching them how to look after themselves.
She believes that healthy, happy people doing what they love, contributes to a more peaceful world. One such person called her, "The Body Whisperer," and another credits her for, "Recreating my life."
She's been featured on CTV Island News, CHLY radio, and various health and spirituality blogs such as Conscious Nutrition, Real Foods Witch, and The Elephant Journal.
When she's not inspiring people to live their healthiest, most delightful life, she is walking her talk, dancing, folding paper into pretty things, and spending time with her greatest teacher, Nature.
Her head is currently busy planning how to serve even more human beings. Get her free report: 3 Simple Tools to Feel More Energy Today at drtoniawinchester.com.