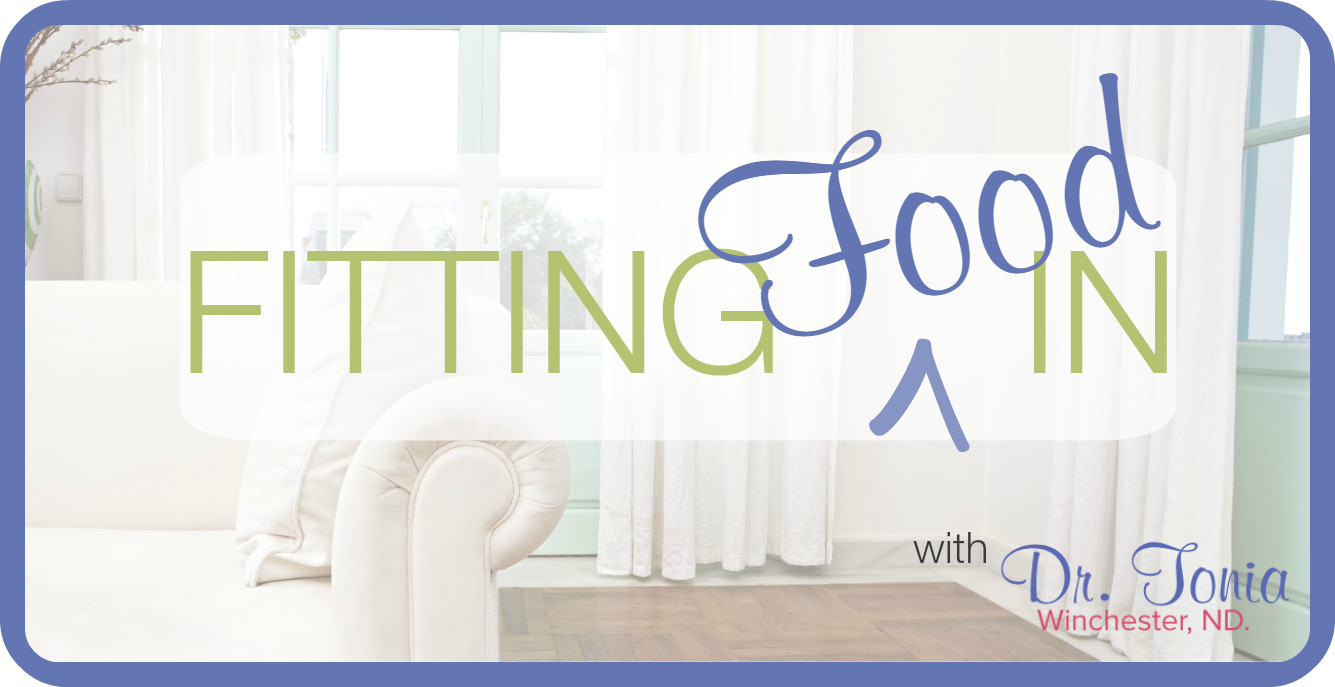 Fitting Food In
FINALLY! An Email Course on
Simple, Healthy Eating for Busy Women on the Go.
A patient recently returned from a silent 10 day meditation retreat. He is so experienced at this that he was actually on staff – ringing bells, and generally being of service to the new meditatees.
He told me that the food there was very simple, fairly bland, vegetarian, and his body loved it!
There was an entire day when his belly felt no discomfort or bloating, and he heard no gurgles, which is a good thing in a silent retreat!
He asked me, "How do I manage to eat that quality of healthy food now that I'm back in the reality of everyday day stress and life?"
He's certainly not alone. I've heard from hundred's of patients over the years about why they don't eat as healthy as they know they should. They don't have the time and the energy.
"Well," I sighed, "If it's something important to you, you have to commit to making it a priority. I don't see any other option."
That being said, it doesn't have to be overwhelming, exhausting, complicated, or cumbersome.
Change can seem hard. I get that. Tony Robbins said, "Change happens when the pain of staying the same is greater than the pain of change." Essentially it boils down to, which situation hurts less, changing or staying the same?
I realized that over my years as a Naturopathic Doctor and food enthusiast, I have a curated and created a stockpile of simple solutions, easy to implement food hacks, to maximize the nutritional benefits of healthy eating without needing to spend hours in the kitchen or be a gourmet chef.
So I bundled the best, most time-saving solutions in an e-mail course for you, and I called it:
I made it because I believe a healthy body is a vehicle to live a thriving, delightful life (ideally doing what you love, and sharing your unique gifts with the world in service.) Food is an integral part of a healthy body.
And I made it because I know you're busy.
You don't have time to watch long videos, or listen to tedious audios to find solutions.
No. You're already stretched to the max between your day job, your mom job, your family job, your volunteer job, your wife job, etc.
You need easy, practical tools, that you can put in place today.
Delivered daily Monday to Friday for 4 weeks (20 tips all together), each email will contain a single, simple food hack so you can have tons of healthy foods, prepped to grab and go, without spending a million hours in the kitchen. We'll cover everything from meal planning, snacks, breakfast, lunch, and dinner on the run.
I will teach you how to fit healthy foods into your crazy, busy life.
You will:
1. Maximize nutrition
2. Minimize food preparation time
3. Eliminate healthy eating stress and overwhelm.
It's manageable. Delicious. Digestible.
It only costs $47. That's also manageable, delicious, and digestible.
What to Expect
As soon as you sign up, you'll get an introductory email with preparation instructions (complete with optional shopping links).
Your daily Fitting Food In emails will start on the Monday after you sign up.
Can you troll the internet for this info? Probably. But do you really have the time? I'm guessing not since you're already having trouble making eating nutritiously a priority.
And I should say, the internet only has some of material covered in this course.
Many of these tips came out of my experience working with buckets of patients about their unique food challenges and needs. So the only way to get that info is through this course. Or working with me one on one.
20 Food Hacks in 20 Days
It's essentially $2.35 a day to get practical, applicable, and fun tips to add years to your life, shed pounds from your frame, and add joy to your soul. The program works, takes little time and is easy to follow. I want to give you back more time in your day for the things that really matter to you.
I've done all the work for you, all you have to do is open your email.
I invite you to take advantage of this email program – especially if you know something has to shift, but don't know where to start or are overwhelmed at the thought of looking.
Let me help, one day and one simple tip at a time. We'll have a blast together. Oh yeah, and this food is definitely not bland!
Disclaimer: The not-so-fine-but-loving print
Fitting Food In is non-refundable, so make a wise choice. I think it's a super investment, but then I am a bit biased. 😉
This is a self-study course and does not include a live interaction component. I won't be available to answer specific health questions.
This course isn't about nutrition, per say. It's about practical time-saving tips to help you easily make fitting healthy foods into your life a priority.
This email course is for information and entertainment purposes only and does not constitute a therapeutic doctor-patient relationship. The information contained in this course is not considered health advice, and I (Dr. Tonia Winchester) am not liable for any harm that may come from using this information.